Company Website: https://prosperbridge.org/
Founded: 2019
Unique Selling Benefits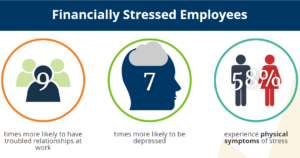 ProsperBridge aims to address a key cause of lower productivity and absenteeism—financial stress. While ProsperBridge offers a particular benefit to lower wage-scale employees, the company addresses the 800-pound gorilla in the room in almost any workforce—the challenges most people face managing their money, no matter how much they make. Click here for a short Enterprise Engagement Alliance Youtube interview with Jervis DiCicco, Chief Engagement Officer, to learn about the service.
ProsperBridge also provides a transformative opportunity for professionals in human resources or other small businesses that provide engagement services to clients.
ProsperBridge provides a service designed to ensure transparent guidance and security to benefit people at every income level. The program includes:
A Personal Prosperity Assistant (PPA) to establish and manage a financial plan based on each individual's situation and goals;
An interactive software platform that automatically gathers and organizes an individual's monthly expenditures by category to establish and maintain a monthly budget and provide information on other financial needs,
And a Capital Solutions suite that includes a bank account, a $2,000 credit line requiring no credit checks, and the ability to access additional emergency interest-free loans.
The PPAs also take a load off the shoulders of human resources departments by keeping employees up to date with company benefit programs.
Referral Partner Program
ProsperBridge is happy to support suppliers of total rewards, benefits, compensation services, rewards and recognition seeking new solutions to bring to clients.
Types of Organizations Served
Any organization large enough to have 50 participating employees in the program.
Skills/Knowledge Required
Solution providers should have relationships with management in human resources, total rewards, and benefits, as well as an understanding of the benefits field.
Questions to Ask in the Discovery Process
The number of employees and the percentage that might see a benefit to having a personal CF0.
The percentage of employees on the lower end of the pay scale and who might be unbanked or without credit scores.
The level of financial insecurity that might be prevalent in the workplace.
Support Tools
ProsperBridge provides a PDF, web site, pricing, and assistance with presentations.
Referral Fee Structure
Solution providers can receive 15% of the annual fee per employee.
Certifications
Maggie Drucker – Masters in Human Resources and Organizational Development, SPHR, SHRM- SCP lapsed 2019.
Contact
For More Information
Jervis DiCicco
303-954-4355
jervisd@prosperbridge.org