Company Website: https://www.appreciationatwork.com/
Unique Selling Benefits
Appreciation at Work provides practical resources to help people across the world build healthy work cultures that optimize sustainable performance by addressing the core driver of workplace satisfaction and performance: Appreciation.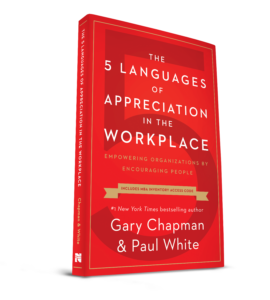 Appreciation at Work achieves results by affirming the intrinsic value of every individual (regardless of their position in their organization) and trains advisors, leaders, and colleagues and professional affiliates how to relate to each employee as a person, not just as a "worker," in order to address the fundamental need for and benefits of Appreciation at Work.
Our Process
Distinguishes between ineffective employee recognition activities and authentic appreciation.
Educates organizational leaders about the tangible benefits of positive workplace cultures.
Identifies the unique ways each person desires to be shown appreciation at work.
Provides turn-key training resources for employees at all levels, distributing the responsibility of communicating appreciation to both employees and supervisors.
Develops positive, healthy communication between colleagues.
Empowers individual employees to create healthy work relationships.
Generates opportunities for consultants for additional training and consulting engagements.
Creates a community of Appreciation at Work advisors who use the practices, books, and assessment tools to build a thriving enterprise helping other organizations enhance their cultures.
Compelling Credibility
Over 500,000 copies of Appreciation at Work have been sold and used in 60 countries and are currently selling at a rate of 3,000 a week.
Materials are available in 23 languages.
Over 295,000 employees have taken our online assessment tools providing invaluable aggregate data for benchmarking purposes.
Over 1,000 certified facilitators use our resources worldwide, including about 200 affiliates.
Appreciation at Work has been featured in over 300 publications and media interviews.
A Blue Chip Client List
We have served tens of thousands of companies and organizations, and individuals at companies such as:
Ben & Jerry's
Boeing
Caterpillar
John Deere
DIRECTV
Exxon Mobil
Ford Motor Company
Genentech
Holland America Lilly
Microsoft
Nationwide Insurance
Nike
Starbucks
Samsung
PepsiCo / Lipton (Global)
Prudential Insurance
Thrivent Financial
And many more.
Plus: Over 750 colleges & universities use our resources 
Government Agencies Served
Bureau of Indian Affairs
Bureau of Safety & Environmental Enforcement
Centers for Disease Control (CDC)
NASA
Every branch of the U.S. Armed Forces
TSA
S. Dept. of Housing and Urban Development (HUD)
S. Dept. of the Interior
Numerous Canadian agencies
Dozens of city, county and state government agencies
Featured in Leading Media, Including:
BBCnews.com
Bloomberg Businessweek
Chicago Tribune
CNN.com
Fast Company
Fox News
Entrepreneur.com
Forbes
Fortune
Franklin Covey podcast
HR Management International Digest
Inc
Strategic HR Review
U.S. News & World Report
Yahoo! Finance
Referral Partner Program
Appreciation at Work is designed for management, human resources, or other leadership positions seeking to establish a clear culture based on baking appreciation into their organizational process.
Appreciation at Work affiliates are companies or individuals seeking to bring a formal culture development process to their clients based on principles that help optimize performance, retention, and willingness to recommend.
As part of the program, Appreciation at Work affiliates receive complete training and certification that includes a business model and marketing support.
Affiliates retain 100% of the advisory fees they make through the implementation and maintenance of the process to monitor the level of Appreciation experienced in the workplace.
Types of Organizations Served
The Appreciation at Work process can help any type or size of organization or team, whether for-profit or not-for-profit, from Fortune 100 companies to regional and local small businesses. Appreciation at Work can be used at the corporate level or implemented within a specific department.
Skills/Knowledge Required
An Appreciation at Work affiliate should understand organizational management principles; the role and economics of culture, and how to assess the level of appreciation and cultural clarity at an organization through information provided on its web site or human capital reporting.
Questions to Ask in the Discovery Process
The key is to understand what the organization is seeking to accomplish through its culture, the audience involved, and what obstacles stand in the way of creating a positive culture based on appreciation.
Does the organization have a clear culture fully understood by most employees?
Is the organization experiencing high levels of turnover or low employee engagement scores?
What are the common challenges related to culture within the organization?
Who are the people having the most impact on culture?
What would be an ideal outcome of establishing a clearer culture?
What type of solutions have been tried to establish a clear culture, if any?
Support Tools
Appreciation at Work provides a PDF and deck customizable with an affiliate's logo to explain the program and use as a marketing tool.
The program includes a paid survey companies can use to benchmark their progress toward creating a culture of appreciation.
Pre-training and post-training objective assessment is available to document the efficacy of the training provided. (combine?)
The tools and materials have a solid foundation of published research demonstrating their validity and practical applicability.
Resources have been developed for remote and hybrid employees, as well as for specific industries (e.g. medical settings, government agencies).
Social media support of the Appreciation at Work brand on Facebook, LinkedIn, Instagram, Twitter and YouTube.
Comprehensive website with free additional resources to use with clients (videos, podcasts, articles). (appreciationatwork.com )
Access to order materials 24/7 through a customized online shopping cart.
Affiliate support provided 5 days / week to answer questions and assist in serving your clients well.
Referral Fee Structure
Appreciation at Work affiliates pay a one-time fee for the preparation and certification program, as well as marketing support on our Affiliate web page and through our Preferred Vendor program on the Enterprise Engagement Alliance EEXAdvisors.com marketplace.
Affiliates retain 100% of their consulting fees.
A referral fee of $100 will be paid to Affiliates for each additional Appreciation at Work affiliate they recruit to become a Certified Facilitator.
Affiliates may choose to be listed on the Appreciation at Work Affiliated Certified Facilitator website for a small annual fee (currently, $100) with their contact information for client referrals.
Certifications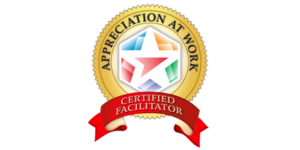 Appreciation at Work affiliates receive a formal certification upon successful completion of the training program.
Contact
Paul White, Ph.D.
President, Appreciation at Work
316-681-4431
paul@drpaulwhite.com