Company Website: https://www.kudos.com
Founded: 2010
Unique Selling Benefits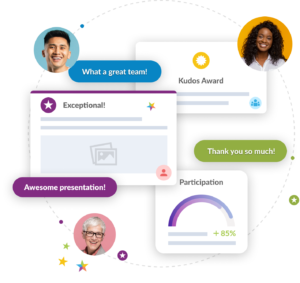 Kudos is a social recognition, culture communication, and rewards platform, with deep reporting and essential integrations to engage employees and help organizations reach their organizational goals.
The Kudos platform focuses on recognition and communication first with a proprietary recognition format and philosophy that provides in-depth insights and detailed reporting to measure and benchmark your employee engagement efforts and results. With over 900+ reviews on g2.com, the world's largest software marketplace, Kudos is an industry leader in the recognition software space.
Kudos drives employee and organizational performance by reinforcing the positive behaviors that lead to desired business outcomes. Peer-to-peer recognition empowers everyone to live the culture; this increases overall employee engagement by fostering trust, transparency, equity, and inclusion. The benefits of a more engaged team include:
• Increased profitability
• Improved retention
• Reduced absenteeism and presenteeism
• Improved customer service
• Increased productivity
• Improved performance
• Higher employee engagement scores
Kudos was first-to-market with a performance-focused recognition platform. Some of Kudos' key differentiators include:
• A recognition-first approach, rather than focusing on points and rewards
• Multiple integrations to optimize workflow for both administrators and users
• Convenient user accessibility from web browsers, the Kudos App, Outlook, MS Teams, Slack and more
• Simple administration features; non-technical users can manage all aspects of the system
• Flexible configuration options to accommodate client branding and program requirements
• Core values promotion and reinforcement with every recognition message sent
• Streamlined rewards with eGift cards, custom rewards and vouchers
• In-depth program reporting, benchmarking, and dashboards
• Exceptional in-house customer support and service
• 900+ 5-star reviews on g2.com
Kudos continues to innovate and set the standard for what a recognition system should be. In a world where Millennials and Gen Z's will make up most of the workforce by 2025 and the growth in remote work, Kudos is the unique recognition platform that can connect and engage your team while communicating your purpose and core values. With work and competitive pressures stronger than ever – Kudos helps set your company apart.
Employee recognition systems are now a must-have for all organizations. Corporate responsibility, measurement, and reporting of employee engagement, equity, and inclusion is now the expectation for businesses worldwide. Kudos is uniquely positioned to become invaluable to organizations as new disclosure requirements come into place.
Referral Partner Program
Kudos offers referral fees and other incentives to third-party solution providers with clients seeking a digital engagement and recognition platform.
Types of Organizations Served
Kudos serves organizations with 250 or more employees across all industries and verticals worldwide. The Kudos platform is currently in use in over 80 countries worldwide and is accessible in 13 different languages.
Skills/Knowledge Required
Properly selling or recommending Kudos requires a basic understanding of the employee recognition and engagement field as well as engagement and recognition technology.
It's critical to understand the organization's culture, purpose, and objectives, the workforce's demographics and location, and the general level of digital aptitude.
Support Tools
Kudos offers a complete kit of sales, marketing, and support materials.
Referral Fee Structure
Contact Kudos for more information.
Contact
Tom Short
Founder & Chief Customer Officer
587-955-9191
sales@kudos.com